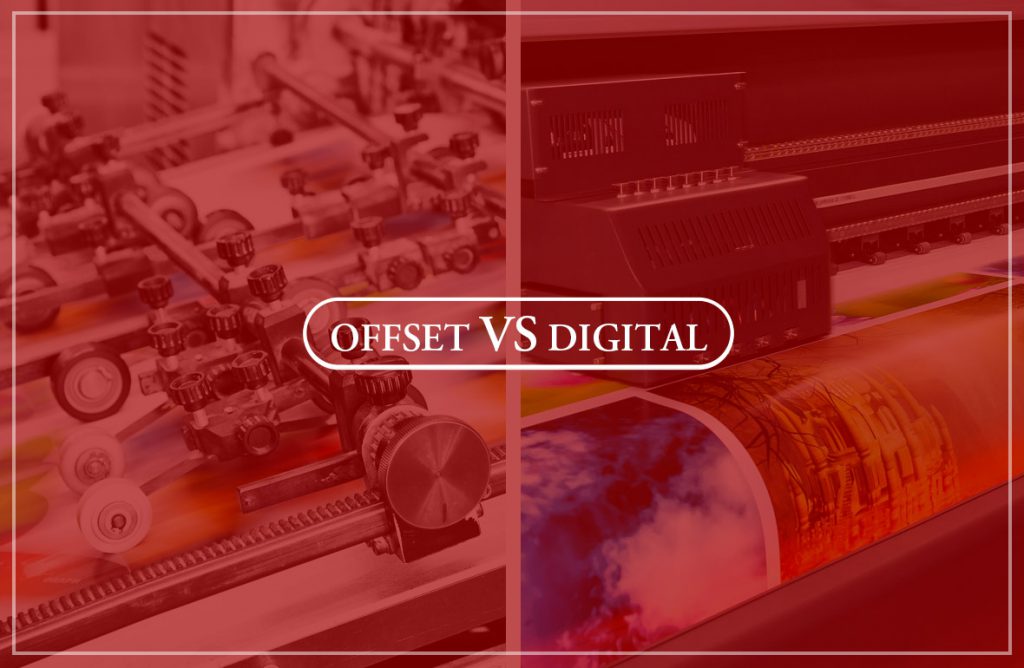 For every business, printing is the art of bringing the ideals and vision of a company to life and extending it to a wide variety of audiences. In today's world, print is everywhere. Whether it's in magazines, on billboards, or the internet, we are constantly seeing and hearing about print. With advancements in printing technology, there are a variety of options available in the market for printing purposes. Among these are offset printing and digital printing, two of the most widely recognized printed options for today. But what is offset printing? What is digital printing? And what are the differences between the two? Keep reading to know all about these two methods.
What are offset printing and digital printing?
Offset printing, also known as lithography, is the commercial printing method for generating high-quality print for brochures, catalogues, and other things. In this technique, the inked image on a printing plate is printed on a rubber cylinder and then transferred(offset) to paper.
Digital printing refers to using a digital-based image for the production of prints. Unlike offset printing, there is no need for a printing plate, the files such as PDFs can be directly transferred to the digital printing press. It is a process where an image is created by an image scanner and software, the image is then sent to a digital printer and the ink is applied directly to the paper.
A comparison between Offset printing and Digital printing:
Quality: When it comes to quality, offset printing exceeds expectations and delivers a high-quality print, allowing you to have consistent solid colours. Also, there is less wastage of prints and the print is devoid of contrast issues.  For a high-definition and flawless print, offset printing undoubtedly takes over digital printing. Digital printing, however, is limited to 4 colour process printing. Although not as perfect as offset printing, digital printing is still able to deliver high-contrast print, but its colour-matching capability is less.
Quantity: Whether offset printing or digital printing would be better for your business, the deciding factor remains your needs. If your business requires heavy printing or is in constant demand for printing for bulk orders, you should choose offset printing. Digital printing works best for short orders and quick deadlines. If you require a large number of prints, offset printing is the way to go as it is also cost-effective when it comes to bulk orders and produces high-quality prints.
Pricing: The cost-effective method of digital printing comprises low setup costs, making it more budget-friendly. Unlike digital printing, offset printing is more costly for low amounts of orders. In offset printing, the price of printing goes down as the quantity goes up.
Time: The elimination of plates enables prints to be delivered fastly and efficiently in digital printing. The setup time is incredibly less in this process as all that is needed is the digitised version of the image. This means you can process a smaller amount of prints in one day or even in a few hours. This is in contradiction with offset printing as it requires more time and effort to deliver the desired results. In offset printing, the setup time is greater, also leading to higher costs if the prints are lower in quantity. In offset printing, the ink also requires higher time to dry and makes the whole process more time-consuming.
Personalization: The ever-evolving process of digital printing is best suited for people who want to customise their designs. It provides you with the luxury of short-run print jobs, hence making it easier to personalise your designs. Instead of having to print a massive amount of the same format, businesses can switch to another design.
Environment-friendly: Companies are now looking for sustainable ways to grow their business. Digital printing has established itself as a more environmentally friendly method as compared to offset printing. These digital printers produce far less CO2 emission and reduce the wastage produced due to exclusion of printing plates. Although offset printing is not as sustainable as digital printing, it is also not very behind in this race. Offset printing also allows you to print your design on recycled materials or environmentally friendly paper.
What should you choose? With the growing digitalisation and the inclusion of digital mediums in everything, digital printing is slowly gaining popularity. However, the unmatched quality offered by offset printing still remains unbeatable. To conclude, they both excel in their areas and it depends on your requirement to decide which one will be better for your business. For smaller runs, digital printing wins as it also allows you to create adjustments on the go. Offset printing is more economical if you're creating a single design in bulk. Shreeji Softech,a printing company that focuses on ensuring customer satisfaction and delivering exceptional results, offers both offset printing service and digital printing service for your business needs, and ensures that you get the results you desire.